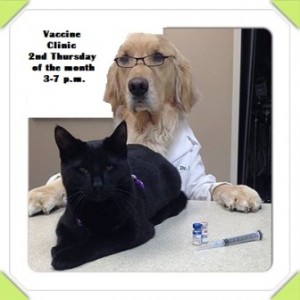 Next Vaccine Clinic – Thursday, April 12, 2018 3 p.m. – 7 p.m.
1) Beechmont Pet Hospital conducts a Vaccination Clinic once a month, on the second Thursday of each month from 3 pm to 7 pm.
2) No appointment is needed – First Come, First Served. (Please take a number)
3) The ONLY services provided during this time are vaccination boosters. We also check fecal samples for parasites, but you must bring the sample with you. You may also purchase food, over-the-counter products, and drug prescriptions that have been called in previously. You will be asked to take a number for these services.
4) If your pet requires other services, or needs to be seen by a Veterinarian, you will need to schedule an appointment during regular business hours.
5) We will, of course, see MEDICAL EMERGENCIES during clinic hours. Inform the receptionist immediately upon your arrival that you have an emergency.
6) Pets presented for vaccinations should be in good health. If you know your pet is sick or having problems, please do not come to Vaccination Clinic – instead, schedule an appointment to see a Veterinarian. Our staff has been instructed NOT to vaccinate any animal that is seriously ill.
7) All pets brought to clinic must be PROPERLY RESTRAINED, with a leash or suitable carrier. Our lobby is usually very crowded during Vaccination Clinic, so it is essential that you be in control of your animal at all times. Please avoid bringing highly aggressive or fractious animals to clinic – instead, schedule an appointment during regular business hours.
8) Please inform the staff if your pet has bitten anyone in the past 10 days. (A rabies vaccination may not be administered to these pets until a 10-day quarantine period has been served and the pet has been examined by a
Veterinarian.)
9) Vaccination Clinic is provided as a service and convenience for owners of pets which have been examined by a Veterinarian during the past year and are merely in need of a scheduled vaccine booster. Vaccination Clinic is not meant to be a substitute for regular veterinary care.
10) No office visit fee will be charged, just the vaccination fee(s).