Stewart S. Smith, DVM, PhD, Practice Owner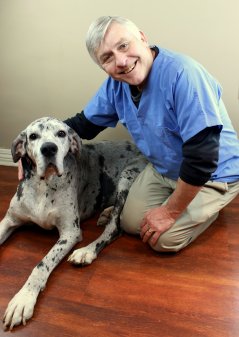 Dr. Smith is a 1989 graduate of The Ohio State University, College of Veterinary Medicine, and has owned Beechmont Pet Hospital since 1990.
Originally from Washington, D.C., Dr. Smith grew up in suburban Northern Virginia. He received his B.A. degree from George Washington University in 1972, and his Ph.D. in physiology from Georgetown University in 1979. From 1975 to 1982, he performed diabetes-related research at the Veteran's Administration Medical Center in Washington, D.C. He then relocated to Ohio, accepting a faculty position with the Anatomy Department at the University of Cincinnati, College of Medicine, where he worked until entering vet school in 1985. The opportunity to become a veterinarian was the realization of a childhood dream for Dr. Smith, who graduated cum laude at the age of 40.
Dr. Smith's professional interests include preventative medicine, surgery, endocrinology, and humane education. He has twice served as president of the Clermont County Humane Society, where he currently serves as Honorary Board Member. Dr. Smith was the 2008 recipient of the Ohio Animal Health Foundation's Distinguished Service Award, presented in recognition of his "exceptional dedication in serving the welfare of animals, his community, and the veterinary profession".
Dr. Smith has been married to his wife, Linda, since 1972. He has four adult children, three daughters and a son, who currently reside in Ohio and Colorado. His daughter, Laura, is currently attending vet school at Colorado State University. In his free time Dr. Smith enjoys current events and playing golf. He owns seven pets, all rescues, including a Great Dane (Gracie), a Jack Russell (Hickory), and five cats who keep the dogs in their place.
Katie Larson, DVM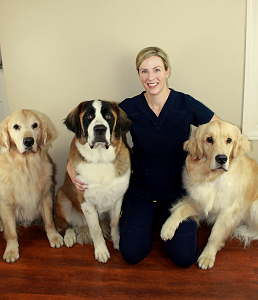 Dr. Larson is a 2003 graduate of The Ohio State University, College of Veterinary Medicine. She also earned a Bachelors Degree and an MS in Animal Science from OSU.
Dr. Larson is a native of Centerville, OH who joined Beechmont Pet Hospital in July of 2003.
Her specials interests are surgery and dermatology.
Dr. Larson owns her own horse and she enjoys riding and showing dressage. She also enjoys hiking and is an avid OSU football fan. She shares her home with her two golden retrievers, Bob and Watson, and her two cats Lewis and Clark.
Maria Kohls, DVM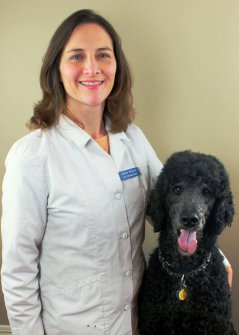 Dr. Kohls is a 2002 honors graduate from the Auburn University, College of Veterinary Medicine, War Eagle!
Dr. Kohls is a Northern Kentucky native who has attained a Bachelor of Science in Agricultural Biotechnology and a Master of Science in Veterinary Science from the University of Kentucky, Lexington, Kentucky.
She joined the Beechmont Pet Hospital staff in 2004 after practicing in Myrtle Beach, South Carolina. Dr. Kohls has a special interest in dermatology, and internal medicine.
She shares her love of camping, fishing, gardening, and cub scouts BSA with her husband and two children. She also is a lifelong aquarist of both freshwater and marine fish keeping.
While visiting our hospital, you may catch a glimpse of her furry companion Korey, a standard poodle, as he enjoys coming to work and hanging out behind the scenes.
Meredith Meyer (Ohlin), DVM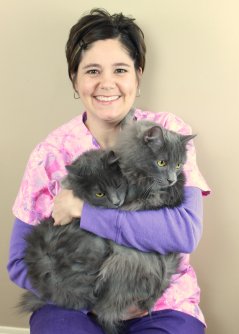 Dr. Meyer is a 2002 graduate of The Ohio State University, College of Veterinary Medicine. She also earned a Bachelors Degree in biology from Xavier University in 1998. Dr. Meyer is a native of Poland, OH who joined Beechmont Pet Hospital in July of 2009. Dr. Meyer previously practiced with Animal Care Centers and more recently with Riverside Animal Hospital in Providence, RI.Her special interests are Cardiology and Dermatology.
Dr. Meyer has five cats, Jerry, Diesel, Esther, Lucie and Lloyd and two dogs named Meatwad and Thurman. She takes dance and loves to spend time outside on her farm and hiking with her husband and newly adopted son Cody.
Jennifer Millette, DVM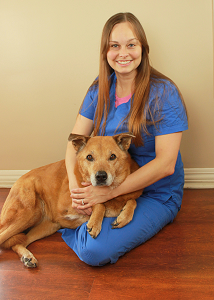 Dr. Millette is a 2011 graduate of The Ohio University, College of Veterinary Medicine. She also earned a BS in Zoology in 2006 and an MPH in Veterinary Public Health in 2012 from OSU.
Dr. Millette is a native of Anderson Township who joined Beechmont Pet Hospital in November of 2012. She previously worked for another veterinary clinic in the area.
Her special interests are preventative medicine, public health, animal behavior, dermatology and internal medicine.
Dr Millete grew up in Anderson Township, the oldest of five children. She has two dogs, lab mixes, Cinnamon and Orion. She enjoys reading, knitting, watching movies and taking her puppies for a walk.
Lori Whitacre, DVM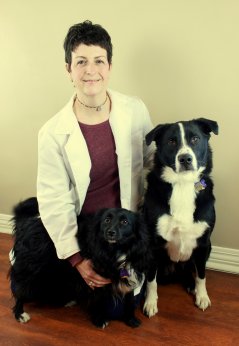 Dr. Whitacre grew up on her family's farm an hour northeast of Cincinnati. She graduated from Wilmington College with a degree in biology. She received her DVM degree from The Ohio State University.
Dr. Whitacre has been a small animal practitioner in the Cincinnati area since graduating from Vet school, with a focus on the health concerns of dogs and cats.
Dr. Whitacre and her son live in Mt. Washington. They have two dogs, two cats, fish and hermit crabs. She enjoys hiking, gardening, yoga and travel.
Sharon Hajek, Practice Manager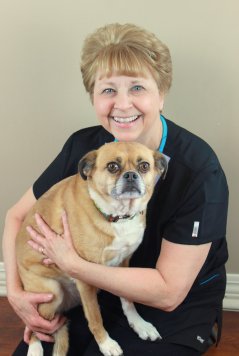 Sharon, a native of St. Louis, MO, moved to Cincinnati in 1987 with her husband Bill, their two children and several pets.She joined Beechmont Pet Hospital in 1995 and brought two years of experience in the veterinary field and four years of management experience. Sharon held the positions of receptionist and veterinary assistant until being promoted to Practice Manager in 2001.As Practice Manager she ensures the daily operations of the hospital run smoothly and efficiently. If you have any questions or concerns please contact her.When Sharon is not at the hospital she likes to spend time with her husband, adult children, grandsons and "granddog". The love of animals runs in the family, as her daughter is a practicing veterinarian at a clinic in the Chicago area.
Heather Rout – Asst. Practice Manager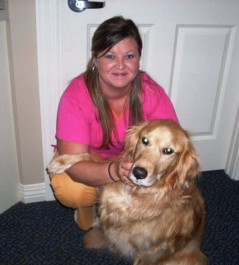 Heather grew up in the Cincinnati area and attended New Richmond High School. Before joining Beechmont Pet Hospital, she was a team leader at a call center.
Heather began working at Beechmont Pet Hospital part-time in 2002 as a kennel attendant. She was later promoted to receptionist, and then to purchasing agent. In 2006, she was promoted to assistant practice manager.
Heather has three sons, two dogs and a cat who keep her busy when not at work. Heather recently got married to her longtime boyfriend James!
Our Support Staff
| | | |
| --- | --- | --- |
| Amy | Ashley | Chelsea |
| Debbie | Dia | Jessie |
| Kakie | Krissy | Margie |
| Rebecca | Sara | Sara |
| Susan | | |