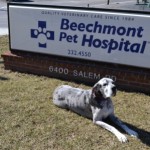 Gracie – Hospital Mascot  My life started out ruff.  I was abandoned as a young dog and brought to the Humane Society emaciated, heartworm positive, and near death, as I was left outside, tied to a tree in the freezing cold.My luck changed when I was adopted by Dr. Smith, the owner of Beechmont Pet Hospital. I quickly became the hospital's mascot because I have a great personality. I go to great lengths to rally the team at BPH, and always encourage them to think BIG.It is a huge responsibility to be the hospital's mascot but I stand tall, as I am proud to hold that position.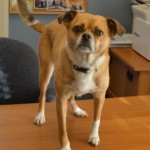 Dogwai -Office Manager  I was born on a farm in Urbana, Illinois, and I was the only puppy in the litter. My mom was in Veterinary School when she adopted me. Now that my mom works full-time and has a baby, I was getting bored at home. I decided I needed a part-time job to keep me busy, so I applied at the clinic where my grandma works.Due to my leadership skills, I quickly became the office manager at Beechmont Pet Hospital. My duties as the office manager include, but are not limited to, barking orders at the staff. I don't like to beg, but sometimes I have to hound the staff to do their job.Most importantly, I try to head off problems before they turn catastrophic. I always strive to give our clients and staff a pawsitive experience.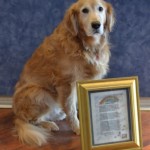 Cooper – Grief Counselor  I was born in Cincinnati and I was the runt of the litter. My family jokes that I was a "clearance" puppy because nobody wanted me. I have since been told that it was the best $150.00 they ever spent.Having such a calm nature, I was hired as the grief counselor for Beechmont Pet Hospital. I sit and stay with clients as long as they need me to after they have lost a beloved family member.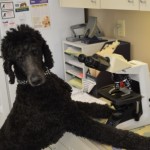 Kori – Vet Assistant  I was 6 inches too tall for my breed, so it took me over a year to find a home, which is pretty standard. However, I did measure up when it came to personality. I was adopted by one of the veterinarians at Beechmont Pet Hospital because I am so good with children and other pets.As a veterinary assistant my job consists of doing Labradory tests, chasing down needed supplies, lending a paw wherever I am needed, and, most importantly, giving our patients a pawsome experience.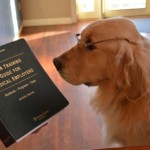 Watson – OSHA Coordinator  I was adopted shortly after my brother, Dr. Baxter, passed away, because my mom was lonely. I have been told that I had the most adorable puppy face that she had ever seen, and she couldn't resist taking me home.I am the OSHA coordinator and enforce safety and health standards at Beechmont Pet Hospital. I retrieve MSDS sheets to update our OSHA catalog. My job also requires me to keep up with minimum wag laws.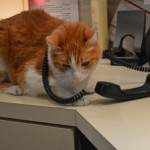 Seabass – Receptionist  I was abandoned outside of a seafood shop in Cincinnati. The owner of Beechmont Pet Hospital found me. Being a grandpaw, and very thin, he did not want me to spend the cold winter months outside.It wasn't long before I was hired as the receptionist. My job includes hunting down medical records and making sure no one litters the lobby. I am currently taking computer course in hopes of mastering the grip on a mouse.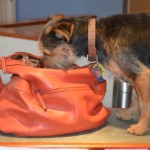 Riley – Security Officer  I was born in Cincinnati and I am the oldest of four siblings. I share my doghouse with a pit-bull, hound dog, and a wolf hybrid. Growing up in such a dangerous environment gave me the experience I needed to be the perfect candidate for the security officer position at Beechmont Pet Hospital.I am constantly on the lookout for terrierism or aggressive behavior that might occur in our facility. I sniff out pawsible dangers to keep our staff safe at all times.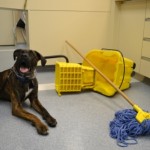 Anubis – Janitor  I was lead astray and ended up on the doorsteps of Beechmont Pet Hospital where I was adopted by one of the veterinary techniciansOn my very first day, I dug right in and was not afraid to get my paws dirty when BPH offered me the janitorial position.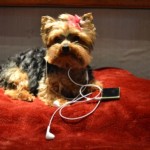 Ruby – Greeter/Social Petworking  From the moment I was born, I was a little princess. Because of my size, the kids think I am a toy they can play with. I sometimes have to flea in a hurry when I see them coming.When I heard that Beechmont Pet Hospital was looking for a greeter, I immediately applied for the position, as I love people.In addition to greeting clients, I also oversee and manage our social media. I try to stay connected to what is going on in the world, so I listen to my ipawed.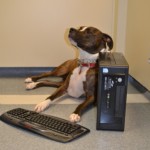 Meatwad – Computer Technician  A good Samaritan noticed I was lost when I was wondering around his neighborhood for several days. He was nice enough to bring me to Beechmont Pet Hospital to see if I had a microchip, since I was not wearing a collar. No microchip. After many unsuccessful attempts to find my family, I was getting depressed living in a kennel at the clinic. It's a sad tail, but I got a new leash on life when one of the veterinarians adopted me.I work part-time as a computer technician for Beechmopnt Pet Hospital. Most of the time I am able to troubleshoot their problems, but I feel like a heel when I can't figure out what's wrong.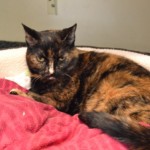 Jingles – Cat Kennel Staff  When my original family was no longer able to care for me, Beechmont Pet Hospital adopted me.Although my main job is to take care of the cats boarding in our cat kennel, I do have other responsibilities. I am a box inspector when UPS delivers our supplies. Some think I am a procatinator, because I take so many catnaps, but I consider myself a sleep expert.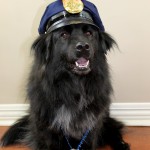 Sasha Fierce – Head of Security  I was abandoned as a 10-week-old puppy and was found hiding and shaking behind an electrical box at an apartment complex. When I was found I had almost no hair because I had sarcoptic mange. Luckily, my new family wasted no time in getting me treated, and my hair coat is beautiful today.I love fashion, so before being employed at Beechmont Pet Hospital as Head of Security, I worked in a bowtique. That job was nothing to bark about. I prefer my current position as security, making sure no one gets herd.In my spare time I like to fetch up on my favorite TV shows, Bark To The Future and Star Paws.