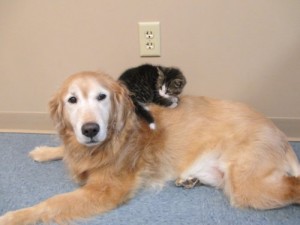 Beechmont Pet Hospital is a full-service general veterinary practice, located in Anderson Township, in Southeast Cincinnati. Our professional and caring staff is dedicated to providing the best possible medical, surgical, and dental care for your beloved dog or cat.Since our founding in 1984, our commitment has been to provide "Quality Veterinary Care at Affordable Prices." We recognize that pets are now beloved family members in the majority of households we serve, and that access to a full range of veterinary services should not be beyond the means of most clients, even on limited or fixed incomes.
We will work with you to promote responsible pet ownership, incorporating current standards of preventive care along with affordable spay/neuter services. We offer training and behavioral counseling to enhance your enjoyment of your pet. We will counsel you on proper feeding and nutrition guidelines, and we stock a full line of prescription diets to accommodate any special nutritional requirements your pet may have.
Please contact us today to learn more about our veterinary practice, and how we can be of service to you and your cherished pet. We will be happy to arrange a tour of our state-of-the-art facility, which opened in 2007. We look forward to meeting both you and your pet, and to earning your trust and confidence as we partner to enhance your pet's longevity and quality of life.
Stewart S. Smith, DVM, PhD
Owner